The Irish Deer Commission promotes and encourages efforts to improve the management and conservation of our wild deer.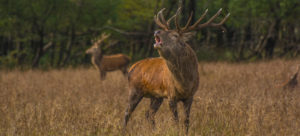 We at the Irish Deer Commission:
Develop a sustainable and achievable deer management policy progressed within a partnership arrangement with all land users and stakeholders.
Promote and encourage efforts to improve the management and conservation of our deer population and habitat.
Co-operate and liaise with other organisations in matters of common interest.
Support landowners and land managers to ensure deer are managed at sustainable levels.
Highlight and support initiatives to combat wildlife crime, including the illegal killing of deer.
Offer our members a wide range of recreational countryside and deer-related activities
To defend, advocate and represent the sport of Deer Stalking to the benefit of our members
Campaign for our members on a range of deer welfare issues working closely with other relevant organisations
Support academic research into deer welfare and conservation
Advise government and key public bodies on deer-related issues
Lobby on behalf of our members for a thriving, sustainable and managed wild deer population
Publish information that assists with improving knowledge about deer, their management and conservation
Campaign on behalf of our members that sustainable deer management must rely on sound, practical and applied scientific research and avoid at all costs deer management based on arbitrary political pressure
Campaign on behalf of our members on the importance of conserving our native deer species as part of Ireland's rich natural heritage and biodiversity. With particular importance on the unique DNA blood-lines of the wild Irish Red deer in Co Kerry and the island of Inishvickillane.
Our members are only too willing to share their knowledge with those who share these views.
The Irish Deer Commission is an unincorporated Association run on a voluntary basis for the benefit of its members. It has an Executive of fifteen persons who run the affairs of the Commission and report on its management to the General body at its General meetings.
Why become a member of the Irish Deer Commission
There are many benefits of membership including attendance at our member events, regular updates on deer related matters, access to our members Facebook page and an opportunity to have an input on matters the Commission may lobby on behalf of its members, but most of all, it is an opportunity to meet like minded deer people.
Here are some of the reasons why people say they have joined the Irish Deer Commission!
"Because I have read and do like the aims and objectives of the commission and the route it seems to be taking. They also have a lot of experience involved"
"Information on deer management and a progressive Association"
"To become part of an organization with sustainable deer management at its core"
"Meet like-minded people interested in conservation of the national deer herd"
"To help promote safe deer management"
"Interested in all thing deer hunting and conservation"
"Great people on the chairs, has to be worthwhile"
"As a deer stalker I feel I should be a member"
"To gain better knowledge of deer stalking through interaction with other members"
"New to deer stalking"
"To meet like-minded hunters and learn"
"To support deer and deer conservation"
Visit the membership page on this website to apply to become a member.
Chairman – Mr William Ireland
Secretary – Mr Kenneth Sewell
Treasurer – Mr Kieran Murphy
Official Charity Partner of