Road Traffic Accidents Involving Deer in Ireland
Irish Deer Commission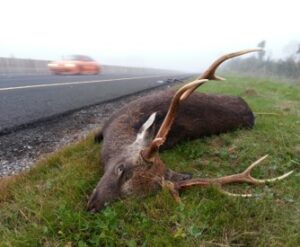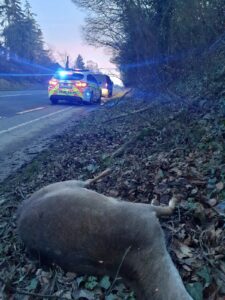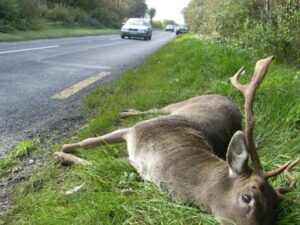 Deer vehicle collisions in Ireland – the facts!
13% of motorists say they have been involved in an accident with an animal in the last 5 years however deer do not feature as common animal involved in an accident – (source) AA Ireland.
In 2018, just over 100 road traffic accidents involving deer have been recorded, with some injuries but no identifiable fatalities – (source) An Garda Síochána.
It is estimated only 10% of deer vehicle collissions are reported – (source) Dr Joachem Langbein
What are the causes?
Spreading Deer Population
Growing number of motorist (2.6m or 181% increase over 30 years)
Deer inhabiting woodlands along stretches of expanding motorways
Driver Speed
Roadside Vegetation
Deer behavior – rut, disturbance, nocturnal
The absence of effective deterrents
How to reduce accidents!
Reduce speed where you see a warning sign and stay alert.
Prepare to stop, never swerve as you could hit another obstacle or vehicle.
When you see a deer "dip your head lights", as the full-beam may cause the deer to freeze.
If a deer has crossed in front of your vehicle, be aware that others may follow.
Increased signage and deer fencing – requires expert advice to avoid unintenional increasing of accidents.
If you are involved in an accident, what should you do?
Do not approach an injured deer.
Contact the local Garda station.
If the accident happens on a public road it is the responsibility of the local authority to remove the deer.
If the accident happens on a private road it is the responsibility of the landower to remove the deer.
Wild deer are not owned by anyone while alive so you cannot claim from the local authority or landowner, if you are involved in an accident and your car suffers damage, or your are injured. Some comprehensive car insurance policies may cover damage to your car.
Irish Deer Commission Humane Dispatch Scheme – for agencies only, such as An Garda Síochána, local authorities, Transport Infrastructure Ireland (TII), animal welfare charities.
Following a road traffic accident involving deer some disappear to die later, but a significant proportion are injured and remain alive at the scene. Such animals may suffer badly and are a potential further hazard to road users and will require the service of a Humane Deer Dispatcher to reduce animal suffering and risk to other motorists.
The Irish Deer Commission operate a voluntary scheme to assist agencies in providing a Humane Deer Dispatch service. All participants have undergone professional instruction, and examination. Our network of 75 volunteers are available nation-wide and operate under the relevant legislation as assisting an authorised officer, and have the relevant public liability insurance.
Agencies can contact us on info@irishdeercommission.ie to avail of this free service.
Irish Deer Commission
*The contents of this page should not be copied or quoted without the permission of the Irish Deer Commission