Important Notice for those Licensed to carry out Deer Management on Coillte Teo Property
The Irish Deer Commission have been in ongoing communication with Coillte Teo regarding deer management and the impact of the ongoing Covid-19 restrictions on its members. The Irish Deer Commission made several recommendations aimed at compensating licence holders who had paid licence fees for the 2020/21 open deer season but were unable to exercise their hunting rights.
2021/22 Open Deer Season Licences
We are pleased to confirm a successful meeting took place today with a delegation from the Irish Deer Commission and Coillte Teo management where a number of positive announcements were made, some of the announcements mirrored recommendations made by the Irish Deer Commission to Coillte Teo on January 6th, 2021.
Due to the ongoing Covid-19 restrictions since 2020/21 Open Deer Season began on September 1st, 2020, where the licence fee was paid in full, there will be no charge for the 2021/22 open season. Where a licence expires following the 2020/21 open season, the licence period will be extended to cover the 2021/22 open deer season.
Similar provisions have also been made for commercial deer licence holders and gun clubs who lease game bird shooting rights on Coillte property. Further meetings are scheduled with respective gun club and commercial shooting representative organisations – NARGC and Irish Country Sports.
Hunter Area Management System (HAMS)
Following initial discussions with Coillte Teo in April 2020, it was confirmed today, that the highly successful online Hunter Area Management System (HAMS) will be launched in March/ April 2021 to all Coillte Licence and Permit holders.
HAMS is used successfully in many countries by hunters, deer managers and provides a lot of different features that ensure deer populations and lands are efficiently overviewed and managed. Features will include increased safety, increased deer management measurement and increased protection against deer poaching. Coillte Teo will also have several unique features for hunting tendering, uploading documents and cull returns. Click here to watch a video 1 video 2 on HAMS.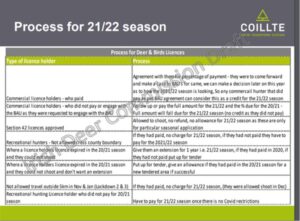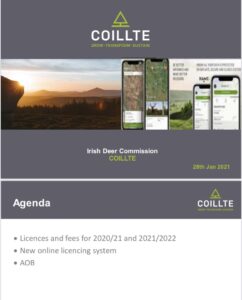 We welcome this development and investment by Coillte Teo, which will greatly assist best practice deer management in Ireland and look forward to working with Coillte Teo on the roll out of this new online system with our members set to trial HAMS in the coming months. We would encourage our members to download the HAMS App and begin exploring its many benefits.
Other topics discussed at the meeting included deer poaching, security and expanding licenses to manage deer within their range rather than specific Coillte Teo property, where possible. We look forward to a continued successful working relationship with Coillte Teo to ensure deer are managed in a sustainable and ethical manner taking account of all land uses including farming, forestry, and biodiversity.
Further details and updates will be emailed to members.
The above text should not be copied without permission of the Irish Deer Commission
 CLICK HERE TO APPLY/ RENEW YOUR MEMBERSHIP
CLICK HERE TO WATCH A VIDEO OF THE WORK WE DO, AND THE BENEFITS IN BEING A MEMBER OF THE IRISH DEER COMMISSION
 *This text should not be copied, or quoted without the permission of the Irish Deer Commission
 Photograph Vivianne Wynne Philips