Minister Darragh O'Brien TD has invited the Irish Deer Commission to make a submission on the legislative and administrative arrangements in relation to deer licensing with a view to securing improvements.
The Irish Deer Commission intends to make a comprehensive submission based on the consensus of our members as part of ongoing discussions to prevent a repeat of the deer hunting licence issues, we saw in 2020.
We have circulated a survey to our members to ensure they have their say and input. We have also included some questions on the current open seasons, deer management in Ireland and the work of the Irish Deer Commission.
If you have not received the survey you can email us at info@irishdeercommission.ie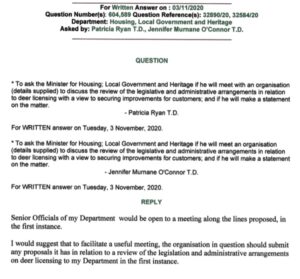 The above text should not be copied without permission of the Irish Deer Commission
 CLICK HERE TO APPLY/ RENEW YOUR MEMBERSHIP
CLICK HERE TO WATCH A VIDEO OF THE WORK WE DO, AND THE BENEFITS IN BEING A MEMBER OF THE IRISH DEER COMMISSION
 *This text should not be copied, or quoted without the permission of the Irish Deer Commission
 Photograph Peter O'Toole