The Native Red Deer of Inishvicillaun Island, Co Kerry
Wild free roaming deer can be found on six of our islands, in 1980, a very wise decision was made to translocate a number of native red deer from Killarney National Park to Inishvicillaun, a 200-acre island off the coast of Kerry to protect the herds future conservation status from non-native Red deer and Sika deer, both of which can hybridise with our native Red deer, potentially wiping out our last native herd of Red deer which has continuously existed in Co Kerry since Neolithic times over 5,000 years ago. The project started in 1980 and over the following twelve years up to 13 deer in total would be transferred to the island. By 1991 the deer population on the island had reached approximately 40 animals as island life proved favourable to them.  In 1993 the population had escalated to almost 70 animals which prompted a decision to carry out the first cull on the herd, as close interbreeding was now identified by the poor quality of some of the animals. The lack of seasonal feed also played a major part in the decision making. It was also decided that once the cull was completed, new blood would be introduced, once again from Killarney.
A single stag was among the last red deer to be translocated from Killarney to Inishvicillaun, but tragedy was to strike. A couple of weeks later, the same stag was found washed up on shore at Hog's head near Waterville in Kerry.  It is unknown if the stag had attempted to swim the eight mile stretch of sea to return to the mainland or if it was forced off the island by another stag. The victim had his antlers removed to ease transportation which also left him defenceless against attack. When unarmed the best defence is to just run!
Not only did this mark the end of the program to translocate deer from Killarney to the island, but strangely it also marked the end of any involvement from the National Parks and Wild Services. The population in 2006 was estimated to be in the region of 100 animals. Culling was then exercised only every 2/3 years. Today the population is managed by private deer cullers on order of a special state licence.
Below are images of the translocation and release of native Red deer from Killarney National Park to  Inishvicillaun Island in 1980.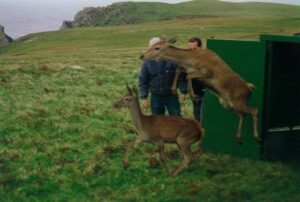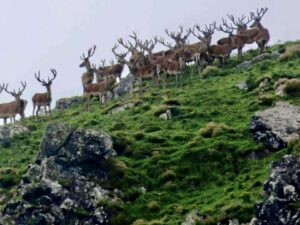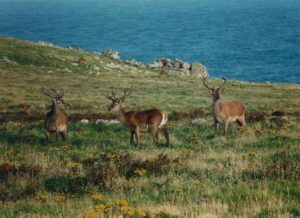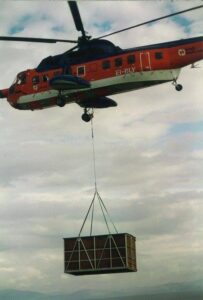 Thank you to Joe Murphy for his assistance with this post.
CLICK HERE TO APPLY FOR MEMBERSHIP OF THE IRISH DEER COMMISSION
CLICK HERE TO WATCH A VIDEO OF THE WORK WE DO, AND THE BENEFITS IN BEING A MEMBER OF THE IRISH DEER COMMISSION
 *This text should not be copied, or quoted without the permission of the Irish Deer Commission