On April 23rd, 2021, a devastating fire destroyed a large area of Killarney National Park, a UNESCO Biosphere Reserve of significant international importance and the jewel in the crown of Co Kerry's natural beauty. Fanned by strong easterly winds the fire spread quickly, despite the best efforts of the County Kerry Fire Service and the Irish Air Corps.
The Park is home to a vast array of flora and fauna including Sea Eagles, Hen Harriers, Sika deer and our last remaining herd of native Red deer. Red deer have continuously existed in Co Kerry since Neolithic Times over 5,000 years ago and are of national conservation importance.
With most wild deer born in the month of June, unlike other species that perished in the fire, deer were somewhat fortunate as normally female deer hide their new-born in vegetation when feeding, and such a severe fire would have resulted in high mortality.
Wild deer are a highly adaptable species and thankfully will recover from the fire. With such a large area of deer habitat destroyed, deer will adapt and move to new areas however this can cause conflict with other land uses such as farming, forestry, or even over-population as deer are already present through-out Co Kerry. These factors and the unique circumstances caused by the fire should be considered when making deer management decisions.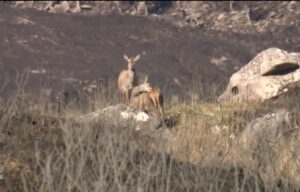 (Photograph Red deer survey the charred remains of their habitat)
Currently the uplands in the Park are mainly void of deer and sheep as summer has yet to arrive in the uplands with little or no feeding available, this combined with the lack of deer management due to the restrictions caused by Covid-19 create additional pressure on lowland habitat not impacted by the fire.
Any calls for severe deer culls at this stage would be counterproductive as deer would simply adapt to the increased disturbance and move to new areas to avoid disturbance.
Ends
 *This text should not be copied, or quoted without the permission of the Irish Deer Commission