Data released by the National Parks and Wildlife Service (NPWS) to the Irish Deer Commission show 55,008 wild deer were culled in the 12-month period up February 2022. The cull sets a record for the number of wild deer culled, up 24% from the previous record set in 2019 when 44,381 deer were culled. Hunters must make an annual declaration to NPWS stating the number of deer culled by county, sex, and species, and this data is provided to the Irish Deer Commission annually. While the data is not independently verified, hunters are required to sign a declaration confirming the accuracy of the information returned.
However, Damien Hannigan a spokesperson for the Irish Deer Commission stated "the actual deer cull is likely to be significantly higher as the cull total does not include wild deer killed illegally known as deer poaching, nor does the total include the growing number of deer killed on our roads. Over the last five years over 200,000 wild deer were culled in Ireland under licence from the NPWS and highlights the important role licensed deer hunters play in managing deer at sustainable levels to minimise negative impacts on farming, forestry, and the wider ecosystem." "The Irish Deer Commission actively work with landowners who suffer negative impacts from wild deer, we also support the various agencies who deal with an increasing number of deer vehicle collisions on our roads through a network of trained members."
Why are more deer being culled? There may be several factors, firstly the number of hunters licensed to cull deer has grown significantly with 6,232 licenses issued in 2022, up 17% from the previous year when 5,344 licences were issued to cull deer during the open culling season from September 1st to February 28th, with dedicated periods when male and female deer can be culled. There is no open season for native red deer in County Kerry due to their national conservation importance, management is undertaken by local NPWS staff. The average number of deer culled per hunter has remained between 6 to 8 deer annually since records began in 1999.
The Irish Deer Commission believe restrictions around the management of deer during the Covid-19 pandemic, combined with a worldwide crash in venison prices, delays by NPWS in the issuing of deer culling permits, poor forestry design for the management of deer, and a rapid expansion afforestation in Ireland, all have created the perfect storm for deer numbers to increase.
How many deer were culled in your county? 70% of the national deer cull came from the six counties of Wicklow, Cork, Waterford, Tipperary, Kerry, Galway (38,526 deer*), County Wicklow, an area believed to have an overpopulation of wild deer in some areas was responsible for 36% of the cull with 19,997 deer*. The Irish Deer Commission says best practice deer management requires more female deer to be culled than males, and the cull returns show the important job undertaken by licensed deer hunters with 26,216 females culled versus 22,401 males during the regular culling season. 6,751 deer were also culled out of season by the granting of permits under section 42 of the wildlife acts, with 924 permits granted by NPWS nationally, with 608 permits granted in County Wicklow alone which resulted in 4,717 deer culled.
County
Number of Deer Culled
County
Number of Deer Culled
Longford
111
Clare
1844
Louth
152
Cork
2492
Limerick
488
Cavan
269
Mayo
1730
Carlow
478
Meath
369
Donegal
1890
Monaghan
347
Dublin
1077
Offaly
1412
Galway
3618
Roscommon
646
Kildare
462
Sligo
1114
Kerry
2568
Tipperary
4770
Kilkenny
414
Waterford
3679
Laois
1951
Wicklow
15280
Leitrim
358
Westmeath
249
Out of Season
6751
Wexford
382
Out of state
135
Why are there calls for a national deer cull recently? The population of wild deer in Ireland is unknown, as a population census has never taken place, so calls for culls are often ill informed or from individuals who do understand how to manage deer to ensure they co-exist with other land uses, and many people are not aware we already have a national cull of over 55,000 wild deer each year. The management of wild deer has become an increasingly emotive topic with polarised views from those in farming, forestry, rewilding, tourism, photographers, hunting, and conservationists. The Irish Deer Commission recently described comments by Minister Eamon Ryan as arbitrary and unhelpful, when the Minister called for a national cull, not knowing one was already taking place. It has been suggested certain land use sectors have engaged in extensive political lobbying to have more deer culls increased, seasons changed without regard for animal welfare, or an attempt to reclassify our wild deer as an invasive species without understanding this would cause deer to spread further and become more difficult to manage, while deer management experts have stated it is crucial deer management decisions are well founded and based on factual scientific data, and not as a result of political or land use sector pressure.
Public Deer Management Consultation – Minister Charlie McConalogue and Minister Darragh O'Brien recently launched a deer management strategy group to develop a national deer management strategy, followed by a public consultation on the management of our wild deer through a short online survey CLICK HERE TO VIEW THE SURVEY, the strategy group is chaired by dairy farmer, Teddy Cashman. However, the strategy group and survey have caused considerable concern among deer experts and deer management organisations, as the deer management strategy group has no stakeholders or deer experts but only civil servants from the Department of Agriculture, Food, and the Marine, Department of Housing, and semi state Coillte. Both the Irish Deer Commission and adminstrators of the Hunter Competence Assessment Programme (HCAP), Deer Alliance have highlighted concerns that the consultation process is designed in a manner that has a predetermined outcome, nor does it address the basic principles to develop a national deer management strategy. Other concerns highlighted state that the survey is non scientific, ignores the postive contribution wild deer make to the wider ecosystem, and will be used as a stick to vilify deer and force through changes that are not in the best interests of deer management or conservation.
A study by researchers in Trinity College Dublin, highlighted the postive contribution deer make to woodland biodiversity when their numbers are managed at sustainable levels, versus the negative impact of fencing woodland.
Ends
*Includes out of season cull totals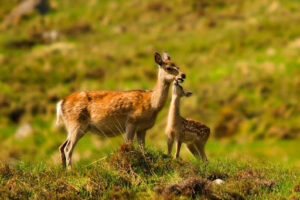 For further details on how to apply for IDC membership CLICK HERE