This event is now fully booked! Thank you to everyone for their amazing support with this event and we look forward to meeting our 100 attendees on October 10th.
Join the Irish Deer Commission on their Red Deer Rut Watch event in Killarney National Park, County Kerry on Sunday October 10th. The breeding season for wild deer known as the "rut" is one of the highlights of the wildlife calendar as stags roars out to their competitors and battle like gladiators for the right to breed with females. This amazing spectacle has taken place in County Kerry continuously for over 5,000 years and Killarney National Park is acknowledged as one of the best locations in Europe to observe the red deer rut.
This event is kindly co-hosted by the National Parks and Wildlife Service and is free of charge. The walk takes place at the peak of the red deer rut on Sunday October 10th.
Booking is available online only by clicking on this link, places are limited, so make sure to book early!
The event is family friendly event and suitable for all fitness levels, with no specialist clothing required. There will be talks by a Conservation Rangers and the Irish Deer Commission, along with a display of native red deer antlers.
For family or group bookings, the names of all those attending is required in the online booking, or booked individually. Meeting time and location will be confirmed closer to event to those who successfully secure a booking.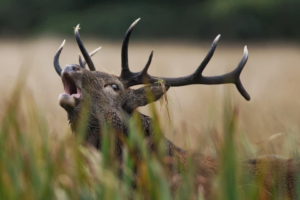 To apply/ renew Irish Deer Commission membership (€20 ordinary/ €25 family) – click here
To join our IFA group insurance policy (€50, members only) – click here for more information
 *This text should not be copied, or quoted without the permission of the Irish Deer Commission