Join us for our latest free member event in our series of Online Learning Events for Deer Stalkers – Red Deer in Ireland, Antler – form and evolution.

This event is free of charge to members and includes a presentation by Joe Murphy, ITC Head Assessor, and author of An Fiadh Ruadh, "the wild swift one", and will be followed by a Q&A session, taking place on Wednesday, April 13th.

Ireland has some of the best red deer in the world, and during this event you will hear about their history, antler development, examples of exceptional heads measured by the ITC, and an understanding of the benefits of deer management in producing good quality wild deer.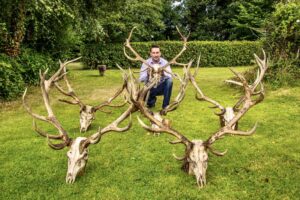 The event is open to members of the Irish Deer Commission only. If you are not a member and want to attend this event, you should apply for membership via our website www.irishdeercommission.ie/membership before April 6th to allow time for processing (please do not register until your membership is confirmed).
To apply/ renew Irish Deer Commission membership (€20 ordinary/ €25 family) – click here
To join our IFA group insurance policy (€50, members only) – click here for more information
 *This text should not be copied, or quoted without the permission of the Irish Deer Commission