Update! (April 19, 2021)
NPWS have been working with stakeholders to improve the Deer Hunting Licence process so that hunting licences are processed efficiently and in a timely manner. NPWS have run into one issue that applicants may be able to help with – that issue is in relation to applicants sending in duplicate or multiple licence applications. NPWS have asked us to remind you of the following:
Double check your application is completed in full with no errors before emailing or posting it in to NPWS, sending in two or three versions of your application can lead to your application being issued on foot of the first application received or it being returned to you for amendment when you have already sent in another version.
Don't send your application by post and by email, please choose one method.
Don't send your application in by email more than once. If you have sent it in then you will receive an automated acknowledgement email, if you don't receive this email check other folders first to make sure it didn't go in there such as spam, promotions etc. Sending in your application 4 or 5 times by email is causing confusion, delaying the processing and it may result in errors.
Update! (April 15, 2021)
The following update was provided to the Irish Deer Commission by NPWS regarding the issuing of Deer Hunting Licences for the 2021/22 Open Deer Season.
To avoid a repeat of the delays we experienced in the issuing of deer hunting licences for the 2020/21 open deer season, NPWS have begun to issue licences for the 2021/22 open deer season. Licences are valid from August 1st to July 31st in the proceeding year, with the season open from September 1st to February 28th.
Today we have highlighted an unintended error on a sample of licences issued to members this week, where the date above the NPWS Assistant Principal – Claire Crowley's signature is the date, the licence was posted and not August 1st, 2021 which suggests the licence expires on July 31st, 2021 when read in conjunction with the licence text. This can potentially cause issues for firearm licensing and other activities.
Following our feedback NPWS have advised us today that they will review all licences issued in recent weeks and reissue a new licence where an incorrect date is shown. Applicants are not required to take any further action and NPWS will contact permit holders impacted by the error.
Update! (March 31st, 2021) The following update was provided to the Irish Deer Commission by NPWS regarding the current Deer Hunting Licence Application Process and feedback on applications received:
Phone contact – as all Wildlife Licensing staff are working from home due to the Covid-19 restrictions, it is not possible to contact Wildlife Licensing by phone.
How to contact – the only communication option is email via deerlicences@housing.gov.ie as of March 31st all emails received up to March 29th have been responded too or processed.
Why am I not getting an acknowledgement of my application? – applications sent between March 15th and 18th did not get an automated reply due to a technical issue. All applications received since this date did get an automated reply, if you sent an application after March 18th and didn't get a reply, you may have either typed the email address incorrectly, or the response is in your Spam folder. Do not resend your application, but send a seperate email asking to confirm your application was received (if sent between March 15th-18th).
Do not send duplicate applications – applicants sending duplicate applications by email, or by email and then by post are only slowing up the processing of applications for other applicants. Do not send duplicate applications!
Photographs and blank applications – NPWS have received a number of applications photographed and attached to an email, these are not acceptable and NPWS will contact the applicant. NPWS have also received blank applications, this happens where someone selects the online application form option but does not save the form after completion and then attaches to an email, check the attachments on your email before sending to ensure the text has been saved. If there is an issue with your application NPWS will contact you, but these errors will only delay the processing of licenses for everyone.
Coillte Permits – as communicated previously following our meeting with Coillte Teo in January, for those who paid for Coillte Deer Stalking licences in full for the 2020/21 season, there will be no charge for the 2021/22 season and Coillte Teo have begun issuing permits to those who have provided insurance cover for the 2021/22 Open Season. Where applicable, Coillte permits should be attached to your Deer Hunting Licence application.
Landowner Permission Form – no landowner permission form is required as this is now part of the overall application form.
Are NPWS posting out renewal forms? – due to the Covid-19 restrictions and staff working from home, NPWS are not posting renewal application forms. However, in exceptional circumstances, they will look at requests on a case by case basis to post a renewal application.
How can the Irish Deer Commission help me? – we reguarly help our members with licence application queries but your first port of call should be the new dedictated email address, if you need to escalate a query, and an Irish Deer Commission member please contact us on info@irishdeercommission.ie
New Application Process
The National Parks and Wildlife Service (NPWS) have confirmed applications for Deer Hunting Licences (DHL) for the 2021/2022 season, under Section 29(1) of the Wildlife Act 1976 to 2018, are now available online via the NPWS website. The following documents can now be accessed:
NPWS previously communicated the process around licensing for the 2021/22 open deer season would be issued on March 15th, as NPWS began to receive new DHL applications, an announcement was made prior to March 15th regarding the landowner permission form and mandatory certification however the Irish Deer Commission opted to wait and include all updates in this communication.
Application Form – the application form is now available in two versions, one is an editable document which you can type on (your typed name in the signature section is considered your signature when emailed), you can save this document to your PC and attach to an email to NPWS. The second version of the application form is the previous method where you can print and fill out the document and post to NPWS (NPWS have confirmed they would prefer emailed applications.)
Landowner Permission Form – this requirement is now incorporated into the application form and is no longer a separate form, nor is there a requirement for a landowner signature due to Covid-19 restrictions.
Sending the application – as previously communicated, there is a new dedicated email address for all DHL queries and when sending applications. The new email address is deerlicences@housing.gov.ie .To ensure you have your licence in time for the new season your application must be received and completed in full before July 1st,2021.
Open Deer Seasons Dates for 2021/22 – there are no changes to the 2021/22 open season.
Mandatory Certification – NPWS had previously announced mandatory certification for new DHL applicants for the 2021/22 open deer season requiring HCAP or similar. Due to the current Covid-19 restrictions, this requirement has now been suspended. Today Minister Noonan reaffirmed his commitment to this requirement and the expectation that it will be introduced as soon as possible.
Coillte Teo Permit Holders – following our meeting with Coillte Teo on January 28th we made an announcement regarding arrangements for permit holders for the 2021/22 open season. Coillte Teo have confirmed they will begin to issue permits immediately once they receive insurance from Coillte licence/ permit holders who paid in full for the 2020/21 open season. The Irish Deer Commission group insurance provider IFA Countryside are currently issuing renewals and can issue insurance confirmation at short notice. If you are not part of this group policy and are a current member of the Irish Deer Commission contact IFA Countryside on 1890 924 982.
Statement from Minister Malcolm Noonan – the Minister issued a statement today announcing the application process for the 2021/22 Open Deer Season while reaffirming his commitment to mandatory certification for first time applicants. He also welcomed hunters back to the countryside to support sustainable deer management. Click here to read the Ministers statement.
If you have any questions – the Irish Deer Commission will have a Q&A session on the DHL Application Process at their next online members event – Working with Deer Antler and Skins – taking place on Wednesday March 31st. Further details will be emailed to Irish Deer Commission members.
CLICK HERE TO APPLY/ RENEW YOUR MEMBERSHIP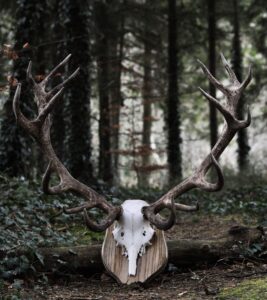 CLICK HERE TO WATCH A VIDEO OF THE WORK WE DO, AND THE BENEFITS IN BEING A MEMBER OF THE IRISH DEER COMMISSION
 *This text should not be copied, or quoted without the permission of the Irish Deer Commission